One of Bulgaria's most respected and talented kickboxers in Bulgaria – Atanas Bozhilov, will enter the SENSHI ring for a record twelfth time.
The fighter of the Burgas club "Fight Factory" will participate in the upcoming 13th edition of the SENSHI international gala evenings. The event is scheduled for September 10 at 7 p.m. in St. St. Constantine and Elena .
The 36-year-old from Bourgas will compete with the Frenchman Hamza Riden, who will make his debut in the organization. The bout will be held according to the rules of KWU Full Contact in cat. up to 75 kg.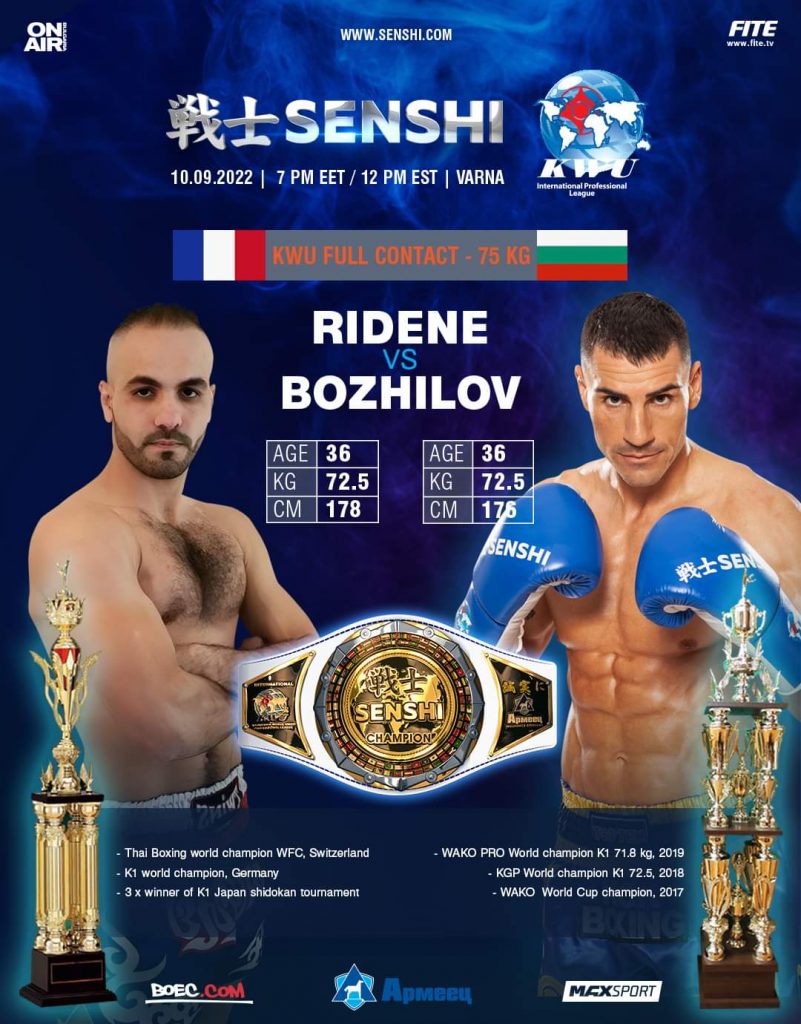 "Nakata" has ten wins in the SENSHI ring, with most recently defeating Georgia's Georgi Bazanov. Bozhilov has 28 wins and only 2 losses in his professional experience. Last year was very successful for him. At the beginning of 2021, he defeated Slobodan Mijajlovic at SENSHI 7 , and then he dealt with Mario Nani at SENSHI 8. In December, the former captain of the national kickboxing team dealt with Philip Hafeli from Switzerland .
Ridden, 36, is a WCF Muay Thai World Champion, K-1 World Champion and three-time K-1 Japan shidokan winner.
The fight night will be broadcast live on Bulgaria ON AIR and Max Sport 2 for Bulgaria, as well as in real-time worldwide on American television FITE, Senshi.com, kwunion.com Boec.bg, Boec.com and Kyokushin Karate News.
戦士 SENSHI is organized in cooperation with the Professional League of the World Kyokushin Union (KWU International Professional League), as well as with the special support of Armeec Insurance Company, MAX Sport, Bulgaria Air, and M Car Group – BMW dealer.
戦士 SENSHI's media partners are Boec.BG and Boec.COM, the national television Bulgaria ON AIR, the American online martial arts television FITE, Gol.bg, Topsport.bg, kwunion.com the information portal Kyokushin Karate News, Fighto.News and Novinata.bg.