SENSHI is back. One week remains until the eleventh edition of the professional fight nights, which again promises great battles. Martial arts fans will be able to enjoy 10 matches between fighting stars and champions from 12 countries, which will be held on February 26 in the Congress Hall in Varna .
Fight number one on the card is Davide Pietrollini from Italy against Aik Danielian from Russia.
The bout is in the category up to 70 kg and will be held according to the rules of KWU Full Contact.
The Russian fighter is 31 years old and you already know him from SENSHI. In July 2021 he became the first Senshi European Champion in the under 70 kg category. Danielian is also a European Kyokushin Champion from 2013 (70 kg) and in 2019 he became Russian Kyokushin Champion (70 kg category).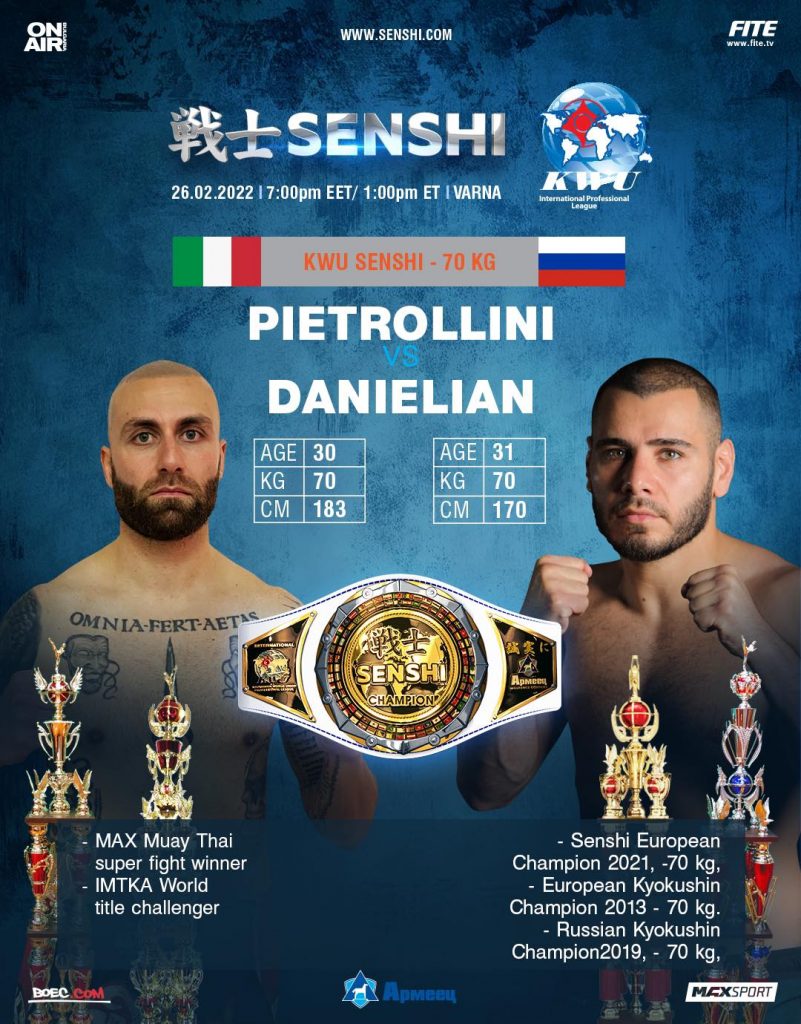 Davide Pietrollini is 30 years old from Italy. He is a MAX Muay Thai super fight winner and an IMTKA World title challenger. This would be his debut on the ring of SENSHI.
The gala is available for fans (a green certificate is needed), and tickets are already on sale. They can be purchased online from the Eventim.bg network.
The combat show will be broadcast live on the national television Bulgaria ON AIR, MAX Sport 1, on the American television FITE, as well as online on Senshi.com, Boec.BG, Boec.com, Kwunion.com and Kyokushin Karate News.
SENSHI 11 is organized with the cooperation of the KWU International Professional League, Armeec Insurance Group, Max Sport, Bulgaria Air, M-Car Group.
Media partners of the event are Boec.BG and Boec.COM, Bulgarian national TV Bulgaria ON AIR, US online platform for combat sports FITE, Gol.bg, Topsport.bg, Kwunion.com, Russian Union Of Martial Arts, Kyokushin Кarate News and Fighto.News.