The fight card of SENSHI 7 is not a secret anymore! The elite fight night will take place on 27-th of February at 18:00 EET. Fight fans are going to witness 11 fights under the KWU SENSHI, KWU Full Contact and K-1 rules. Fighters from 12 different countries will take part in the event – France, Germany, Moldova, Serbia, Belarus, Portugal, Holland, Slovenia, Bosnia and Herzegovina, Russia and Bulgaria. Five of the fights will have a WAKO PRO title at stake.
The world kickboxing champion and captain of the national team of Bulgaria Atanas Bozhilov will defend his WAKO PRO title under 71.8 kg. He will fight Slobodan Mihayjlovic who is a 2015 World Champion and 2016 European champion.
Bozhilov, who is a multiple-time medalist from international competitions is a WAKO gold and silver medalist from world amateur championships. He is a 2x World Champion, 2x European Silver Medalist. He has 5 wins out of 5 performances at SENSHI.
The main event of the evening will face Aleksandar Menkovic from Serbia against Sergey Braun from Germany. They will fight for the WAKO PRO World title under 81.4 kg. Braun is a 2x world champion in WKU and 2x World kickboxing champion for professionals. He has a gold medal from "Diamond Cup" Karate Kyokushin tournament. The Serbian is a World title holder of WAKO PRO under 78 1 kg and a European WAKO PRO champion.
Fights 7,8 and 9 will be for the European WAKO PRO titles. Three Bulgarian competitors will fight for them. World and European Muay Thai champion Petar Stoykov will fight for the 69.1 kg. belt against the WAKO Cup winner from 2018 and bronze medalist from WAKO World and European Championship Bogdan Bazuyk from Ukraine.
Nikolay Yorgov from Bulgaria and Jiga Pechnik from Slovenia will fight for the WAKO PRO 78.1 kg. fighters under the K-1 rules. The Bulgarian is a silver medalist from the World Muay Thai Championship of WMF and a silver medalist from the KWU World Championships. He is a multiple-time national champion and "All-Japan" champion in Karate Kyokushin. He is also a silver medalist from Shinken shobu World Championships.
Jiga Pechnik will fight for the first time in the ring of SENSHI. In 2019 he became the WAKO PRO European champion and in 2017 he became a silver medalist from WAKO World Championship in Budapest.
In the ninth bout of SENSHI 7 Bulgaria`s multiple-time kickboxing champion  Eduard Aleksanyan will face the World Champion from 2013 Lyubo Jalovi from Serbia. Jalovi will defend his WAKO PRO European belt under 81.4 kg. which he won in 2019 when he fought Boban Ilioski.
Those are only a few of the exciting clashes we`re about to see on 27-th of February. Boec.bg, Boec.com, по Bulgaria ON AIR, Max Sport, and FITE TV will broadcast the event.
Among the special guests and referees at SENSHI 7 once again the K-1 legends Peter Aerts and Semmy Schilt will shine. The Dutch kickboxing masters are also professional instructors at the KWU International Professional League events. Special guests will also be the chairman of the Bulgarian National Combat Sports Association Shihan Ivo Kamenov, the general secretary of KWU Shihan Aleksandr Pichkunov and the CEO of Russian Martial Arts Union and president of the Russian All-Style Karate federation Shihan Ramil Gabassov.
Here are all the fights at SENSHI 7: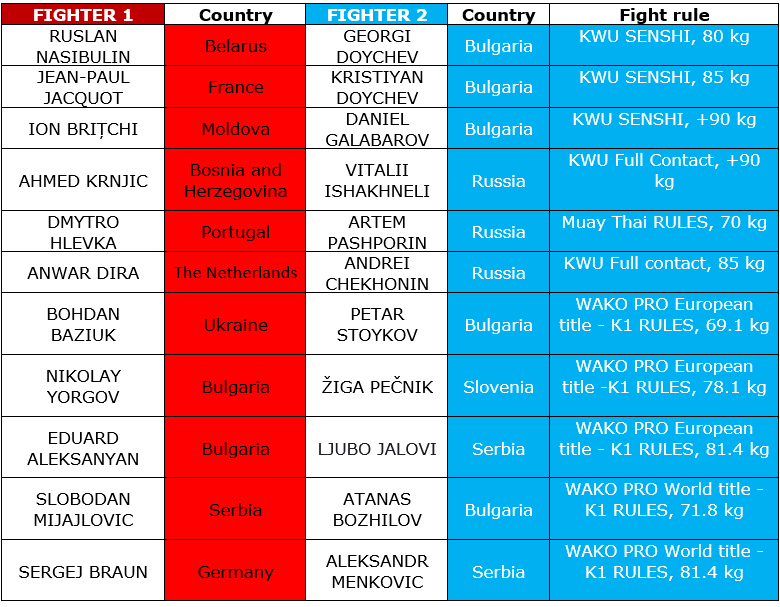 SENSHI 7 is being conducted with the assistance of the Kyokushin World Union (KWU), the World Association of Kickboxing Organisations (WAKO PRO), Armeec Insurance JSC, MAX Sport, Bulgaria AIR and BMW-M car.
Media partners: Boec. BG and Boec.Com, Bulgaria ON AIR, FITE.TV, Gol.bg, Topsport.bg, Russian Union of Martial Arts and Kyokushinkarate News.