New Zealand sambist Ana Moceyawa took third place in the weight category up to 65 kg in Sports SAMBO among women at the Asian Championships held on June 2-4 in Jounieh (Lebanon).
She spoke about her impressions of the tournament, her desire to take part in a training camp on the eve of the World Championships and relations within the SAMBO community, in an interview for the FIAS website.
Ana, this was your first participation in the Asian Sambo Championships. Share your impressions.
– I am very glad to have the opportunity to take part in the Asian Sambo Championships. These competitions helped me gain the experience necessary for professional growth.
Was gaining experience your main goal?
– There were two goals: to win a medal and gain experience, which I will later be able to pass on to my students in New Zealand.
You are professionally engaged in judo and freestyle wrestling. Why did you decide to try yourself in SAMBO?
– SAMBO today has a wider arsenal of techniques, gives more opportunities to fight. Of course, the skills I gained in judo and freestyle wrestling help me to practice SAMBO, but that's not all. I want to develop, and I see great prospects for myself in SAMBO.
Today you won the bronze medal. Do you consider this a success?
– I was lucky enough to win a medal, first of all, thanks to a successful draw, but I am sure that in the near future I will be able to climb the podium again, thanks to high-quality wrestling.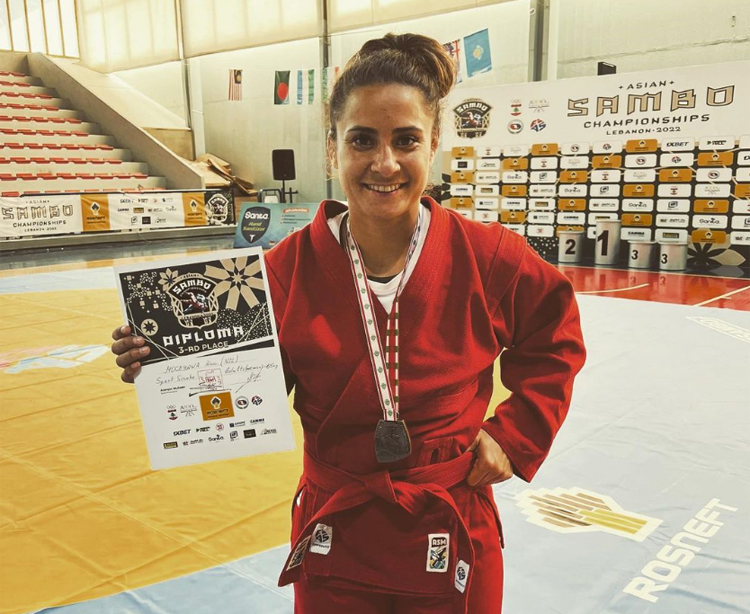 What prevented the victory over the athlete from Kazakhstan?
– When I got on the mat and started fighting, at first it seemed to me that Azhar was heavier than me, and this confused me a little. I even decided that she was from a different weight category, perhaps it was due to fatigue. I also felt that she was technically superior to me. I wanted and could add to the technique, but I was a little confused about what techniques I could use. Probably, this was the main reason for my defeat.
Has the change of time zones affected your well-being and physical condition?
– There is practically no impact on health and physical condition. What really caused inconvenience was the need to struggle with sleep every minute, because the time of the fight in Lebanon coincided with the dead of night in New Zealand. In addition, the expectation of the fight was delayed.
How do you assess the organization of the tournament? Did anything prevent you from preparing for the competition?
– From an organizational point of view, everything was in order, there was a very friendly atmosphere and the willingness of colleagues to come to the rescue.
FIAS President Vasily Shestakov often says "SAMBO is one big family. We are rivals on the mat, and we are friends behind the mat." Did you manage to feel this family atmosphere today at your first international SAMBO tournament?
– This is one of those moments that attract me very much in SAMBO. I have often heard about this, but today I was able to see it from my own experience. Yes, it really is.
Find the full interview HERE.