Istam Kudratov became the winner of the Asian Championships in the weight category up to 71 kg in Combat SAMBO. He analyzed his final fight against Kyrgyz Temirlan Toktorbaev, in an interview for FIAS.
Istam, your final match turned out to be quite spectacular. But, to be honest, I still did not understand what base your opponent had: on the one hand, he kicked, on the other, there was an impression that he was waiting for the opportunity to go into the wrestling…
– It looks like the base is still a wrestling base. I think the lowkicks you are talking about were deceptive moves. Temirlan is a strong fighter. Before me, he won two fights with technical wins: one with a painful hold, the second with a choke hold. To be honest, I also did not immediately understand how I should act better: either to work in a standing position, or to go to the ground.
It was evident that working in a rack, the Kyrgyz athlete hides his chin…
– Yes, he showed that he was ready to fight, but it was a deception.
During the fight you managed to knock your opponent down…
– Not exactly, I did not knock him down, it was a sweep, a wrestling technique. When grabbing, I was able to unbalance him and make a technical action for two points.
And go to the pain…
– Yes, leg pain, knee lever.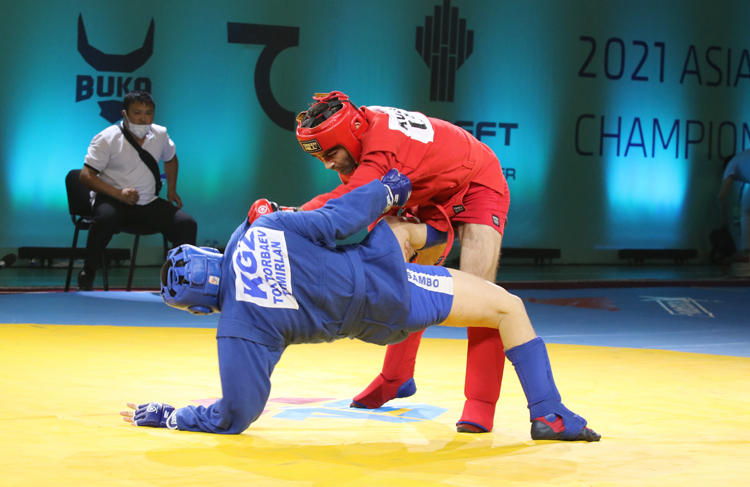 What was the most difficult fight for you today?
– Perhaps, with my fellow countryman Sanat Ismonov in the semifinals. Our competition with him has been going on for three or four years.
What is the score of personal meetings?
– The score is in my favor, I have not lost yet. But today's fight was really tense. I only won because I was the last one to earn a point. If Sanat defeat me in the semifinals, I think he would have won the Asian Championships.
How did the change in weight categories affect you? In what weight did you compete?
– I used to compete in 74 kg, now – in 71 kg.
Find the full interview HERE.