Australian artist and SAMBO coach, Kyle Torney, spoke about the specifics of developing SAMBO in rural areas, working with children from disadvantaged areas in an interview with the FIAS website "sambo.sport".
Mr. Torney, you are known to the public not only as an artist, but you also own the martial arts club, Torney's Fighting Fit, which includes SAMBO among its disciplines. Why did you choose SAMBO?
– The reason I was drawn to SAMBO is its effectiveness. In our club we offer boxing and mixed martial arts and once I got into contact with the President of the Australian SAMBO Federation, Savely Timofeev, we introduced our members to the grappling techniques of SAMBO. We have met a positive response from the people in the community. Our SAMBO classes have only been operating for 6 months and between our talented juniors and adults we are nearing 50 students studying the discipline. Despite the fact, that we are quite new to this sport everyone is developing very well.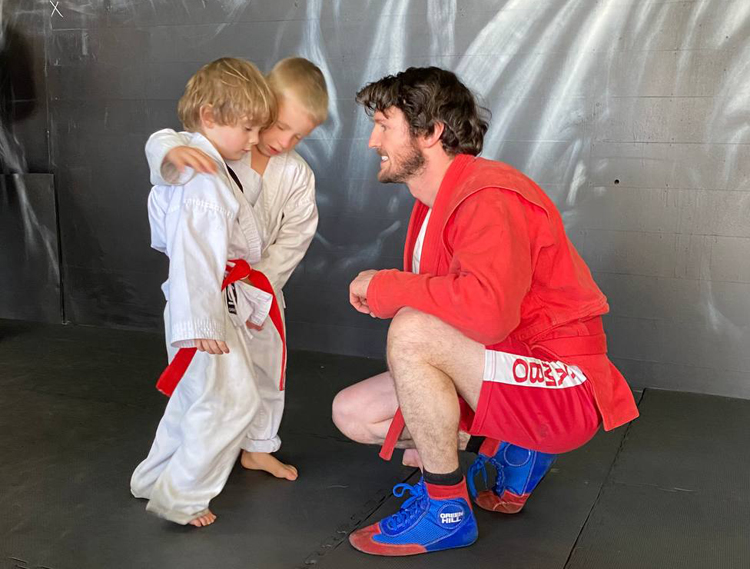 You support your club with a part of the money that you get from your work as an artist. How did the idea for Torney's Fighting Fit initially appeared?
– In the rural community where I grew up there was never anything like martial arts offered for kids. Quite often children in rural areas find themselves with a lot of free time and not much to do. After finishing school, I moved to Melbourne and competed in boxing for several years and tried myself in multiple martial arts disciplines. When I came back to my hometown, I decided to open a martial arts club to offer kids and adults in the area something meaningful to do in their free time.
Despite your professional career as an artist, you have made it your mission to promote SAMBO in the state of Victoria and Australia in general. What did inspire you to do so?
– In my opinion, SAMBO is a sport that helps to promote a sense of community. In the case of juniors, it develops self-confidence, it builds strength and resilience, develops strength of character and a lot of self-belief in children. SAMBO is the kind of sport where the harder you work the better you get. I want to instill in our junior members a strong work ethic; something which I strive to purvey weekly in our training sessions. My aim is to help them improve not only physically, but also mentally.
You can find the full article HERE.