The Kazakhstan SAMBO Championship was held from 11 to 14 March in Semey.
More than 470 athletes from all over the country took part in the tournament.
Sambists competed for medals in 23 weight categories: 7 among women, 8 among men each in Sports and Combat SAMBO.
The winners will represent Kazakhstan at international tournaments, including the Asian Championship and the World Sambo Championship, reports FIAS.
Results of the Kazakhstan Sambo Championship 2022
Women
50 kg
1. BAZHAEVA Margarita
2. ZHYLKYBAYEVA Aizhan
3. PAYYZ Zhadyra
3. NABIEVA Bibyzhan
54 kg
1. ALMUKHAMBETOVA Guldana
2. Aigerim TELEMGENOVA
3. NURDINOVA Gulnast
3. BAKYT Kymbat
59 kg
1. BIZAK Marzhan
2. ZHUMABAEVA Dinara
3. TӨREBAY Ainur
3. KUANYSHOVA Ayaulym
65 kg
1. SALYKOVA Azhar
2. KULINTAY Fariza
3. KASHKYN Zhanar
3. AKZHIGITOVA Ainur
72 kg
1. KURYSHBAEVA Dildash
2. SULEIMENOVA Riza
3. ZHUMAKHAN Zhuldyz
3. ALMUKASHEVA Aigerim
80 kg
1. AMAYEVA Azman
2. ORAZBAI Arailym
3. KUDAIBERGENOVA Mereke
3. BISENOVA Gulzhaina
+80 kg
1. ABENOVA Araylym
2. SEITIMOVA Anar
3. ASANKYZY Nuril
3. NURLANBEK Moldir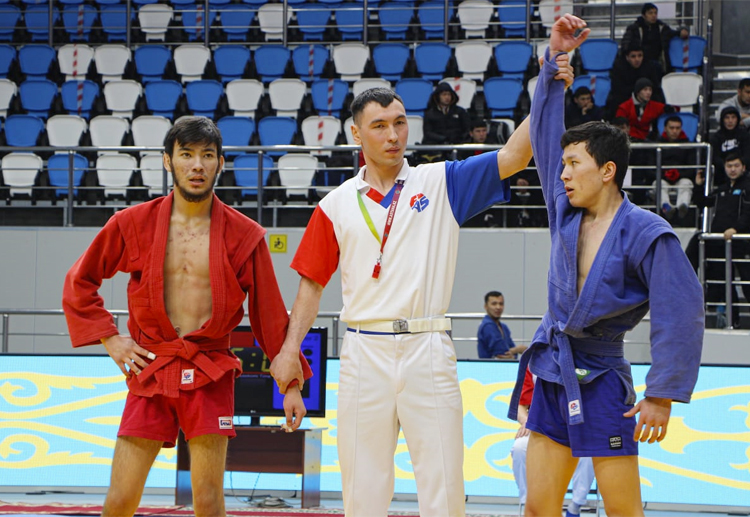 Men
53 kg
1. SADU Merey
2. MUHANBETOV Bekzat
3. BAIGALIEV Syrym
3. TOKTARBAY Alibi
58 kg
1. AIDINBAY Kaiyrberdi
2. ULANOV Yerlan
3. ALDUKHAN Yerbol
3. MOLDAKAPAS Bekzat
64 kg
1. IMAHAN Esentai
2. ZHANANIET Rakhat
3. DUZASU Dulat
3. MOLDASH Kemelbek
71 kg
1. KUATAI Arnur
2. Serikov Nurbol
3. BABEET Gaziz
3. KUANYSHULY Nurbek
79 kg
1. ZHANGABIL Marlene
2. TOKTASYNULY Tilek
3. ZINALIEV Tekey
3. KAZANGALIEV Kuanyshbek
88 kg
1. KOISHYBAYEV Elaman
2. BEYSEMBAYEV Eldar
3. AIDARBEK Toktarbek
3. ZHARKYNBAEV Ruslan
98 kg
1. ZEKENOV Alibek
2. BAYKAMUROV Murat
3. AMANTAYULY Adilet
3. FEDOROV Danil
+98 kg
1. KOLBAY Temirlan
2. Oralov Akzhigit
3. MADIYAR Daniyar
3. ESTAI Yermukhan
Combat SAMBO
53 kg
1. TURYMBETOV Arman
2. ELEBEKOV Erasyl
3. BOLATUL Zhandos
3. TURGANBAY Shyrakzhan
58 kg
1. UALIEV Miras
2. DOMBAEV Nurken
3. UTEGULOV Zhandos
3. KAZHIAKBAROV Shyngys
64 kg
1. SEISOV Adilbek
2. TAJIBAY Bak-Daulet
3. RAKHMETOLLIN Maratbek
3. ABDIROV Aibek (Atyrau region)
71 kg
1. ANARBAYEV Aset
2. NAZAROV Aibek
3. BAIGOZHIN Azamat
3. TEMIRKALI Ramadan
79 kg
1. SMAILOV Asylbek
2. BORISOV Alexander
3. DYISEMBEKOV Bakytzhan
3. TURGANBAYEV Nurlan
88 kg
1. SAMETAEV Aibek
2. ORAZYMBET Beksultan
3. ISHMAMET Koblandy
3. KURISHBEK Samat
98 kg
1. MADI Raihan
2. EGINBAYEV Yerkebulan
3. ABDULLAH Askar
3. MAGMUR Kanagat
+98 kg
1. ZHIENTAEV Talgat
2. TOLEUBAEV Kudaibergen
3. SEKEN Damir
3. MURATULY Aibolat