Russian sambist Sergei Kiryukhin won the gold medal at the European Championships in Cyprus.
He managed to take over Europe at 88 kg, defeating Belarusian Timofey Yemelyanov in the final. In an interview with the FIAS website, Sergei Kiryukhin spoke about the growth of competition in SAMBO, the transition to a new weight category, work as the first number and the favorite SAMBO technique.
Sergey, the results of the European Championships indicate that the competition in SAMBO has noticeably increased in recent years. Is this so, in your opinion, and is there a feeling that it becomes more and more difficult for Russians to win every year?
– Of course it is. This can be seen with the naked eye.
Athletes from which countries are the main competitors? And who, in your opinion, has shown the greatest growth in recent years?
– Traditionally, the CIS countries are the most competitive. But personally, I really liked the wrestling of the athlete from the Netherlands Mistral Jansen in my weight – up to 88 kg. We had already fought with him at the European Championships two years ago, and this time we met again in a fight for reaching the final. I can say that these are two different people. Mistral has done a lot of bug fixing and has grown tremendously over the past two years. Progress, as they say, is evident.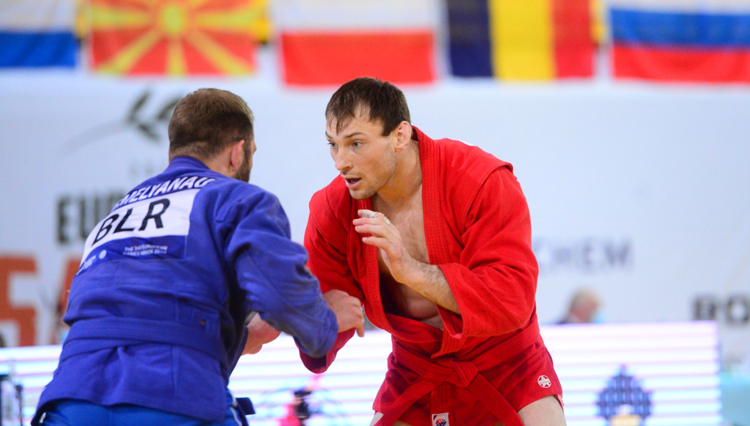 You are a multiple world and European SAMBO champion. You fought in the weight category up to 82 kg before, now, in connection with the new weight categories, you have moved to 88 kg. How difficult has it become to compete: new weight, new rivals, new physical condition?
– This is not entirely true. The bulk of my opponents also moved into the category up to 88 kg from 82 kg. But there are also guys who have climbed into a new category: from 88 kg to 98 kg.
To be honest, this time it was difficult for me to compete. Previously, with a stable weight of 86 kg, I gradually reduced the weight to 82 kg, and it was comfortable for me to fight. Now it is not easy to compete with guys who are losing weight to 88 kg, they are physically very strong. Athletes often "hold" 4-5 kilograms, and approach the competition in optimal physical shape. But, in fairness, I must say that all the athletes with whom I had to fight at the European Championships came from 82 kg, so, by and large, nothing has changed for me.
How do you currently manage to win? Do you have to pay more attention to training or is there enough class?
– Not enough already. You always have to pay a lot of attention to training, you cannot afford to relax and not train. Today it is no longer possible to rely only on the class or the high level of the Soviet school. No matter how talented you are, there is still a lot of work to be done. But that's not all. It is necessary to show an individual approach to each opponent with whom you have to fight. Therefore, even before the start of the competition, the coach and I analyze the features of the struggle and the technique of potential opponents. We carefully study videos from different tournaments, determine the strengths and weaknesses of sambists, develop tactics for each athlete. This is probably the approach that brings results.
Read the full interview HERE.