The member of the All-Russian SAMBO Federation Uali Kurzhev won a gold medal at the World Championships in Tashkent in the up to 79 kg weight category.
In his interview to the FIAS website, he pondered on the aftertaste of victory, the growth of technical skill among sambists across the globe and the new chief competitor of the Russians.
Congratulations on winning. Today you have become a four-time World SAMBO Champion. Are you not tired of winning?
– You can never have enough of it (laughs). Today, as the bout started, I was surprisingly calm, feeling no anxiety at all.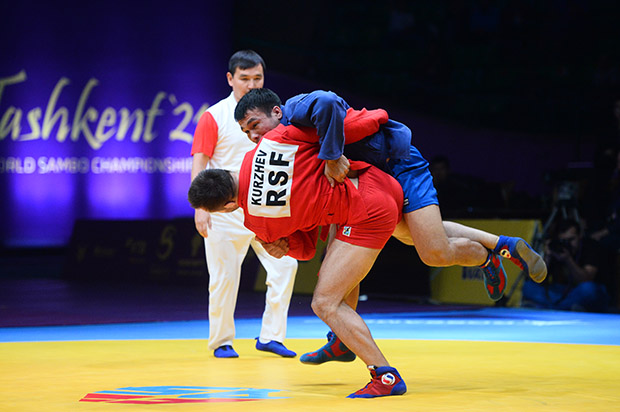 You just knew that you would win, didn't you?
– No, I didn't, but I knew that I was the favorite. Nonetheless, it is a SAMBO mat, things happen all the time, and you cannot be sure of victory till the last moment, even if you have a considerable edge.
And yet, what is the aftertaste of victory? Was it as vibrant and strong as it was the first time or has it become something habitual for you?
– The taste of victory cannot pall, it is gratifying and you wish to taste it time and again, even having experienced it 10 or 20 times.
In the finals, you won with confident score of 7:1. What was your tactics for the match?
– Dmitry Viktorovich Troshkin and I carefully studied all the competitors, and of course we came up with a plan for the match. As you come onto the mat, you should instantly let your opponent know who is the favorite in the fight, so the main thing here is self-confidence.
So in the finals you acted as number one, didn't you?
– Yes, I did, in the finals I was matched against a local athlete, so I had no other option than acting as number one.
Did you bank on fighting in a stance or on ground?
– Frankly, I'm not a great enthusiast of on ground wrestling, I prefer a standing position. There was a plan to seize my opponent's left hand, as he was left-handed, and so it happened: I captured his left hand, made a throw, and then kept on fighting using the hold.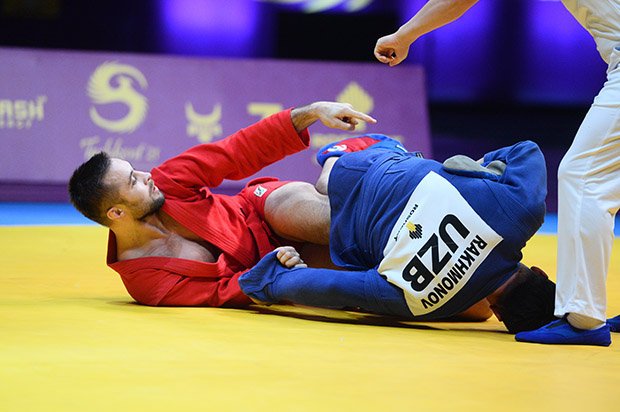 Is it much harder to fight a left-handed person?
– Myself, I am right-handed, so quite the opposite, it is much easier for me to fight against a left-handed athlete, as it is easier to block their working hand.
The spectators rooted for your opponent, as he was performing on his home grounds. Did it bother you?
– It didn't bother me at all, this is not the first time I perform in Tashkent, I have a lot of fans here as well. They met me saying that they would root not only for local athletes, but also for me.
Today your bout was broadcast live via the Eurosport TV channel, with enthusiasts of martial arts from all corners of the globe watching your performance. How important is it for you?
– For myself, it is not as important as for the propagation of SAMBO as a whole. I`m already 32, the end of my career in sports is not too far, and I wish so much to see SAMBO as a sport gaining global renown, being featured in the Olympic program. That is why, I was delighted that today half of the world watched the tournament live, not because of my performance but because it was a competition in SAMBO.
Find the full interview HERE.