The co-main event at SENSHI 11 did not disappoint.
Aleksandar Petrov recorded a second victory in the international professional fight nights, defeating by technical knockout in the third round Boban Ilioski from Northern Macedonia.
The match was held according to the rules of KWU Full Contact in the 85 kg category, and the Dutch kickboxing legend Peter Aerts was the referee of the match.
The match started with exchanges of kicks, as the Bulgarian placed a good left kick in the opponent's belly. Ilioski relied on his boxing combinations and rocked Petrov with a strong right in the head. However, the Bulgarian got angry and picked up the pace in the final part of the round, using his leading hand wonderfully.
The second part was quite equal. Petrov continued to insist with the kicks in Boban's body, which in turn revealed his opponent for combinations with hands in the body and head. The northern Macedonian attacked with a few hooks in his body and right straight in the face, but they did not bother Alexandar, who still took note of the caution with the transition from attack to defense.
Clinches prevailed at the beginning of the third round, but over time Petrov imposed his will through combinations. Shortly before the middle of the round, Alexandar put an extremely beautiful flying knee in Ilioski's head, which opened an arcade under the opponent's left eye. The bloodshed led to the suspension of the match by order of the medical person, and so the Bulgarian recorded a second victory in the ring of SENSHI.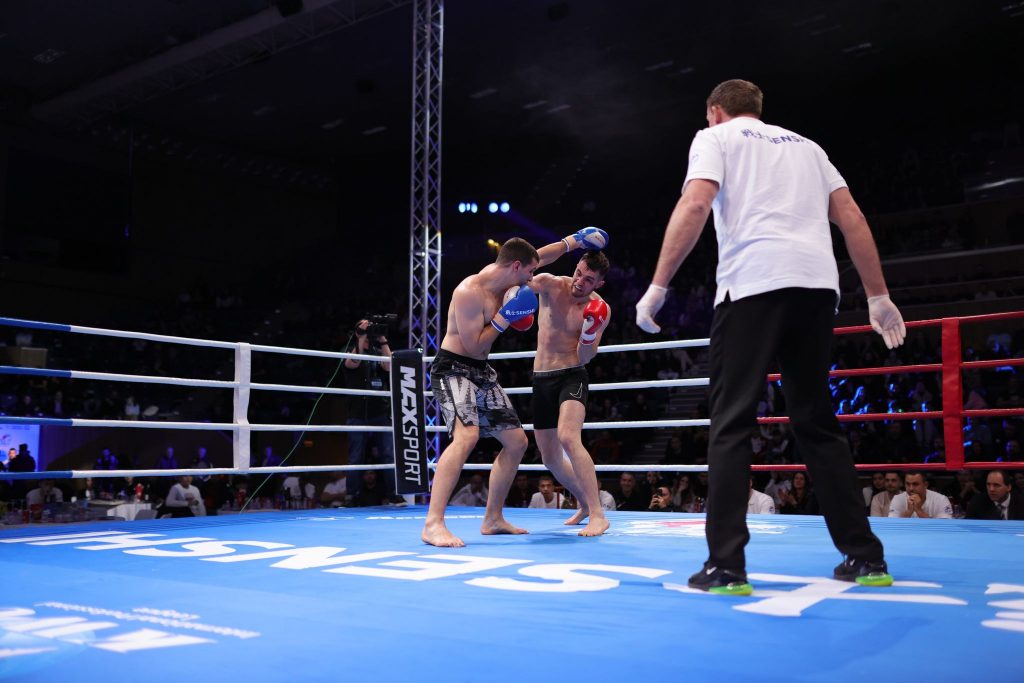 Photos: Studio "Lesemann"
SENSHI 11 is organized with the cooperation of the KWU International Professional League, Armeec Insurance Group, Max Sport, Bulgaria Air, M-Car Group.
Media partners of the event are Boec.BG and Boec.COM, Bulgarian national TV Bulgaria ON AIR, US online platform for combat sports FITE, Gol.bg, Topsport.bg, Kwunion.com, Russian Union Of Martial Arts, Kyokushin Кarate News and Fighto.News.