One of the best Serbian sambist and FIAS Athletes' Commission member Ivana Jandric is sharing her career pathway with other athletes to motivate them to do what they love – to do SAMBO.
The big success for her came in 2015 when Ivana as the only member of Serbian team on the 1st European Games managed to win gold medal and to put SAMBO as a sport in a spotlight of Serbian audience.
"Well, yes, for a long time that was my favorite medal and my favorite memory, but then many more medals came. I won bronze at the last World SAMBO Championships in Tashkent. It helped me to make much easier a decision to retire from competitive sport, focus on teaching and becoming a coach," Ivana said in interview for "sambo.sport".
At the World Championships in Tokyo in 2014 Ivana was elected by SAMBO athletes as one of the members of FIAS Athletes' Commission and she joined in same time FIAS Women in Sport Commission.
"I have to say I feel proud to be part of any kind of development of SAMBO, to have been competed in a decade where SAMBO has grown the most. FIAS Athletes' Commission is especially important because we need a connection between competitors and Federations to help change things that are not working and to increase the things that are," Jandric said.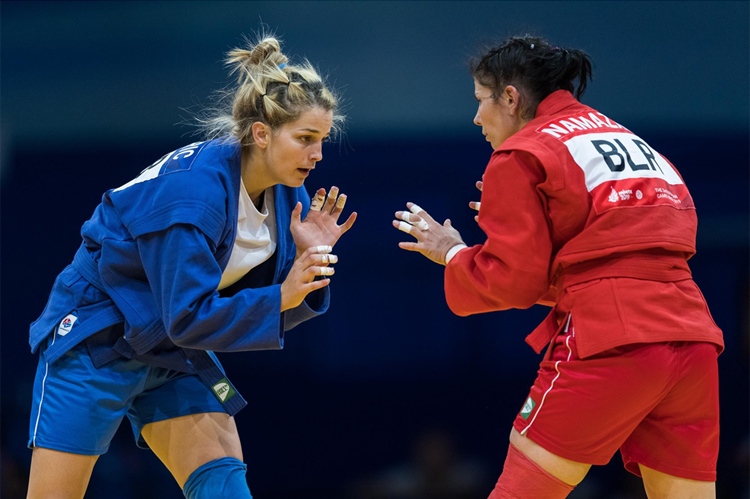 Due to Covid pandemic, Ivana went through a lot of injuries and bad results, she knew she was coming close to the end of her career.
In past there were other sambist in Serbia – Patrik Drid who became the Vice President of European Sambo Federation or Tatjana Trivic who is president of Serbian Sambo Federation which inspired Ivana with her further career transition.
Ivana retired after World SAMBO Championships 2021, and she is actively staying in SAMBO and helping its development. She is a president of Sambo Federation of Vojvodina region and one of the coaches of Serbian national team.
"I felt for a long time that I will remain in SAMBO community one way or another. Wonderful thing has happened to me in last six months. I was hired as a Sport director of one SAMBO club. I understood it is right time for me to retire and to dedicate my time and efforts to coaching. I have a lot to offer to the young athletes and I still feel enormously proud to be a part of SAMBO family which gave me so much to my daily life. I trust to have successful career ahead as SAMBO coach due to my experiences from past. I am aware there is space to improve my knowledge, therefore I am excited to attend the European SAMBO Championships 2022 being held in Novi Sad, Serbia in different role this time – as a coach of the national team," concluded Ivana.