The Youth and Junior Championship of Ukraine in Sports and Combat SAMBO in Lviv brought together 600 participants from 22 regions of the country.
For three days from January 28 to 30, 51 sets of awards in two age categories (U-18 and U-20 years old) were played on the mats of the SKA Athletics Arena.
President of the National SAMBO Federation of Ukraine Vadim Rogach noted the wide geography of champions and prize-winners of the tournament.
According to him, state support plays an important role in the development of SAMBO.
The next big start, which also has the status of one of the main selection stages for the national team, will be the Ukrainian Championship in Sports SAMBO among men and women.
Results of the Youth and Junior Championship:
Youth (W)
42 kg
1. BONDAR Elizaveta (Odessa region)
2. IVASHCHENKO Karina (Kiev)
3. ALIEVA Diana (Kharkiv region)
3. KIREEVA Anastasia (Dnepropetrovsk region)
47 kg
1. CHERNUKHA Veronika (Dnepropetrovsk region)
2. MIROSHNICHENKO Margarita (Poltava region)
3. SIKISH Anastasia (Ivano-Frankivsk region)
3. DUS Christina (Chernihiv region)
50 kg
1. KUKHAR Milena (Poltava region)
2. SHEVCHENKO Elizaveta (Chernihiv region)
3. NAGIRNA Angelina (Khmelnitsky region)
3. KOZACHENKO Diana (Odessa region)
54 kg
1. VOLOSHYNYUK Yana (Ivano-Frankivsk region)
2. KOBA Daria (Rivne region)
3. PUTRYA Olesya (Kharkiv region)
3. GOVIADOVSKA Karina (Dnepropetrovsk region)
59 kg
1. KUMECHKO Violetta (Zhytomyr region)
2. MARTYNENKO Katerina (Kiev)
3. KOLODYUK Anastasia (Kiev)
3. SHINKARENKO Inna (Kiev)
65 kg
1. CHERNOKOZ Maria (Zhytomyr region)
2. LYSENKO Angelina (Chernihiv region)
3. TULUNGHI Diana (Odessa region)
3. ABDULAGATOVA Amina (Dnepropetrovsk region)
72 kg
1. RYTSKA Maria (Sumy region)
2. VELICHKA Angelina (Sumy region)
3. GRYTSENKO Victoria (Poltava region)
3. PROTASEVICH Alexandra (Zhytomyr region)
80 kg
1. KAZAKOVA Anna (Chernihiv region)
2. MUKAN Anna (Odessa region)
3. ARUTYUNOVA Valentina (Kiev)
3. ZAROVETSKA Victoria (Ivano-Frankivsk region)
+80 kg
1. BELKOVA Margarita (Dnepropetrovsk region)
2. YUZEFOVYCH Ivanna (Kiev)
3. SKRIPCHENKO Sofia (Kharkiv region)
3. BEREZHNA Anastasia (Donetsk region)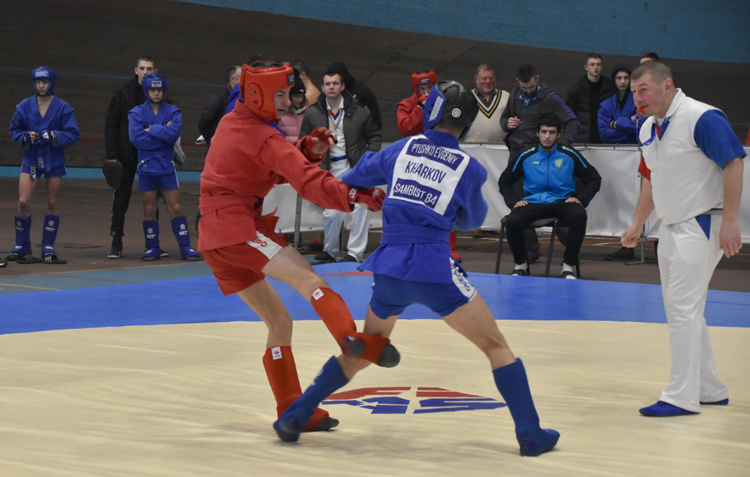 Youth (M)
42 kg
1. DZYUBA Daniil (Kharkiv region)
2. KOLODYAZHNY Egor (Sumy region)
3. NINNYK Nazar (Kiev)
3. TKACHUK Vladislav (Vinnitsa region)
53 kg
1. GORBAN Artem (Kiev)
2. ZHOGAN Vladislav (Khmelnitsky region)
3. AVRAMENKO Danila (Kharkiv region)
3. KRAVCHENKO Danila (Kharkiv region)
58 kg
1. LUKASH Ivan (Kharkiv region)
2. ALIEV Elmir (Khmelnitsky region)
3. GRUSHEV Daniil (Kharkiv region)
3. KAMINSKY Andrey (Transcarpathian region)
64 kg
1. BABICH Maxim (Kharkiv region)
2. SIMONCHUK Mykola (Rivne region)
3. IVASHCHENKO German (Kiev)
3. GONCHAROV Anton (Odessa region)
71 kg
1. LUTSYK Maxim (Khmelnitsky region)
2. ISMAILOV Marat (Kharkiv region)
3. KLIMCHUK Volodymyr (Kyiv)
3. YAREMCHUK Vasily (Ivano-Frankivsk region)
79 kg
1. MIHALYUK Yaroslav (Lviv region)
2. SIDLOVSKY Mikhail (Zhytomyr region)
3. ROMANOV Bogdan (Lviv region)
3. GRIGORENKO Nazar (Kiev)
88 kg
1. CHERNYSHENKO Ivan (Sumy region)
2. ANICHKIN Alexander (Kiev)
3. ZINNIK Oleg (Lviv region)
3. PRYIMENKO Artem (Sumy region)
98 kg
1. KOVAL Bogdan (Lviv region)
2. GURENKO Vladislav (Kharkiv region)
3. KUCHERENKO Vitaliy (Kharkiv region)
3. KUTS Vladislav (Volyn region)
+98 kg
1. ABBASOV Elnur (Dnepropetrovsk region)
2. SYCHEVSKY Bohdan (Donetsk region)
3. KOVALENKO Roman (Kharkiv region)
3. POLISCHUK Anthony (Volyn region)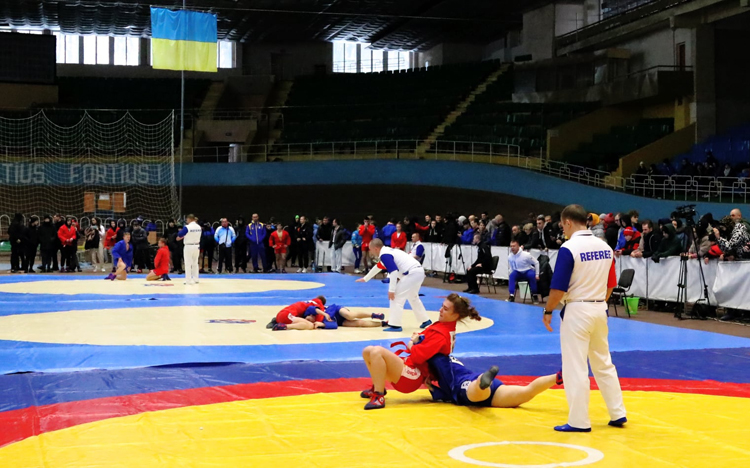 Youth (Combat SAMBO)
42 kg
1. SEVERIN Gleb (Vinnitsa region)
53 kg
1. KRYLOV Taras (Vinnitsa region)
2. DODON Anton (Vinnitsa region)
3. SHEVCHENKO Artem (Vinnitsa region)
3. GONCHARENKO Vladislav (Kiev)
58 kg
1. LISCHINSKY Mikhail (Lviv region)
2. SOBOLEV Nazar (Kiev)
3. CHIBISOV Yuri (Ivano-Frankivsk region)
3. GUDZ Daniel (Cherkasy region)
64 kg
1. MELNIK Vladislav (Odessa region)
2. POSICH Yuriy (Volyn region)
3. MELNIK Danila (Cherkasy region)
3. MAKAROV Evgeny (Volyn region)
71 kg
1. GARBUZ Bogdan (Odessa region)
2. TERLETSKY Alexey (Khmelnitsky region)
3. KOCHUBEYNIK Andrey (Vinnitsa region)
3. KRAVTSIV Vitaliy (Ivano-Frankivsk region)
79 kg
1. PAVLYUK Maxim (Odessa region)
2. BYSTRIK Artur (Kiev)
3. DYACHUK Eduard (Vinnitsa region)
3. KOZORIZ Nikolay (Vinnitsa region)
88 kg
1. RUBAN Andrey (Zhytomyr region)
2. RUDENKO Roman (Kharkiv region)
98 kg
1. KRISHTONOV Rostislav (Odessa region)
2. TSYGANENKO Danila (Kiev)
3. BIZYUK Kirill (Kiev)
3. POREMCHUK Ivan (Volyn region)
+98 kg
1. SYCHEVSKY Bohdan (Donetsk region)
2. CHINESH Nikita (Kharkiv region)
Juniors (W)
47 kg
1. ZASULSKA Yulia (Poltava region)
2. CHAPLINSKA Marta (Lviv region)
3. YURCHAK Anastasia (Odessa region)
3. DUS Christina (Chernihiv region)
50 kg
1. SIKISH Anastasia (Ivano-Frankivsk region)
2. SHVEDYK Daria-Irina (Chernihiv region)
3. NAGIRNA Angelina (Khmelnitsky region)
3. MELNYK Ruslana (Vinnitsa region)
54 kg
1. PLISH Snezhana (Ivano-Frankivsk region)
2. VOLOSHYNYUK Yana (Ivano-Frankivsk region)
3. PUTRYA Olesya (Kharkiv region)
3. SLOBODENYUK Alina (Zhytomyr region)
59 kg
1. BORDINSKIKH Sofia (Dnepropetrovsk region)
2. DRIG Olga (Kiev region)
3. SHINKARENKO Inna (Kiev)
3. POLYAKOVA Maria (Kiev)
65 kg
1. ZHUKOVA Darina (Odessa region)
2. LYASHUK Darina (Volyn region)
3. ABDULAGATOVA Amina (Dnepropetrovsk region)
3. ERMAK Diana (Zaporozhye region)
72 kg
1. ZINKEVICH Anastasia (Zaporozhye region)
2. MOCHENOVA Valeria (Kyiv region)
3. CHERNENKO Valeria (Kiev)
3. MARFIYAN Vitalia (Lviv region)
80 kg
1. KAZAKOVA Anna (Chernihiv region)
2. ARUTYUNOVA Valentina (Kiev)
3. KRASNIKOVA Anastasia (Kharkiv region)
3. MUKAN Anna (Odessa region)
+80 kg
1. BELKOVA Margarita (Dnepropetrovsk region)
2. MORENKO Elizaveta (Donetsk region)
3. BEREZHNA Anastasia (Donetsk region)
3. DEEVA Anna (Dnepropetrovsk region)
Juniors (M)
53 kg
1. SHPAK Sergey (Khmelnitsky region)
2. TKACH Anton (Vinnitsa region)
3. ASKEROV Rustam (Lviv region)
3. POCHANSKY Roman (Lviv region)
58 kg
1. ISAENKO Danila (Kharkiv region)
2. KURKOYID Georgy (Odessa region)
3. BOROVIKOV Andrey (Khmelnitsky region)
3. ZHEBCHUK Dmitry (Kiev)
64 kg
1. KYRILYUK Vladislav (Vinnitsa region)
2. GONCHAR Yaroslav (Chernihiv region)
3. OLIYNYK Yaroslav (Vinnitsa region)
3. MANKO Kirill (Dnepropetrovsk region)
71 kg
1. SIDOR Vasily (Khmelnitsky region)
2. CHEREDNICHENKO Mark (Kharkiv region)
3. KANIKOVSKY Danila (Odessa region)
3. AKISHEV Nazar (Khmelnitsky region)
79 kg
1. CISAR Bogdan (Khmelnitsky region)
2. COLD Vladislav (Khmelnitsky region)
3. PARFIONOV Maxim (Odessa region)
3. KIZIMENKO Denis (Kharkiv region)
88 kg
1. BATIY Nikita (Zaporozhye region)
2. SAMEDOV Timur (Rivne region)
3. SEMENYAKA Danila (Khmelnitsky region)
3. KLIMENKO Ilya (Dnepropetrovsk region)
98 kg
1. KROHMALYOV Roman (Zaporozhye region)
2. SHIPKA Nazar (Lviv region)
3. BEREGULSKY Nikita (Lviv region)
3. GURENKO Vladislav (Kharkiv region)
+98 kg
1. GRYBYK Mykola (Lviv region)
2. –
3. SMIRNOV Denis (Kharkiv region)
3. BASANETS Igor (Sumy region)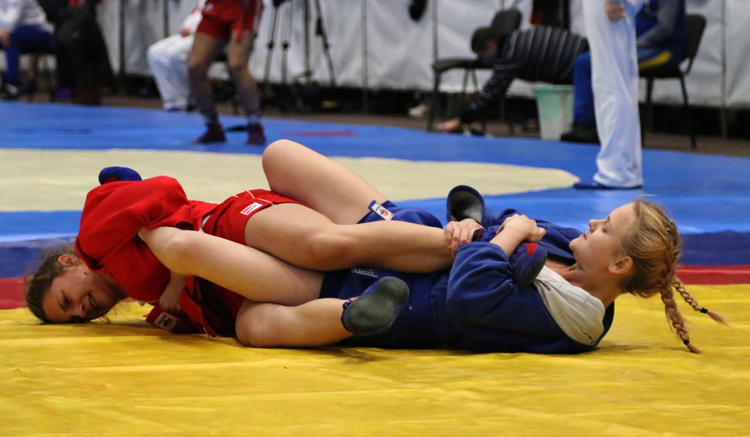 Juniors (Combat SAMBO)
53 kg
1. FILATOV Danila (Kharkiv region)
2. ASKEROV Rustam (Lviv region)
3. SHKENU Yaroslav (Kiev)
3. POCHANSKY Roman (Lviv region)
58 kg
1. KUTSEL Maxim (Rivne region)
2. MIKHAILENKO Sergey (Donetsk region)
3. ZIMIN Maxim (Vinnitsa region)
3. ZVERKO Pavel (Vinnitsa region)
64 kg
1. MAYBORODA Valeriy (Lviv region)
2. RASKIN Jan (Odessa region)
3. PALYURA Vladislav (Vinnitsa region)
3. MIKULANINETS Alexander (Kiev)
71 kg
1. MISYUK Andrey (Volyn region)
2. LYASHUK Eduard (Rivne region)
3. ZAZIMKO Sergey (Kiev)
3. IVANOGLU Ivan (Donetsk region)
79 kg
1. KRYLOV Vladislav (Dnepropetrovsk region)
2. STUK Artur (Lviv region)
3. GALCHENKO Egor (Dnepropetrovsk region)
3. OSTAFI Denis (Kiev)
88 kg
1. MIKHAILOV Yuri (Rivne region)
2. RAHISH Danielo (Odessa region)
3. SHCHERBATY Sergey (Dnepropetrovsk region)
3. SAVCHENKO Dmitry (Khmelnitsky region)
98 kg
1. SHIPKA Nazar (Lviv region)
2. FILIPCHUK Yaroslav (Odessa region)
3. SMOLYAK Eugene (Dnepropetrovsk region)
3. OSTROVSKY Vladislav (Kiev)
+98 kg
1. STRILETS Yaroslav (Cherkasy region)
2. KABANETS Dmitry (Kiev)
3. AZIMOV Timur (Kiev)
3. KHUDOKOVSKY Vitaly (Dnepropetrovsk region)
Team standings
Youth (16 – 18 years old)
1. Kiev
2. Kharkiv region
3. Odessa region
Juniors (18 – 20 years old)
1. Lviv region
2. Kiev
3. Dnepropetrovsk region