A well-known book author Tiffany Madison once said: "The problem with having problems is that 'someone' always has it worse". But in the time we are living now, is it true what she's saying? Is there any diversity in what we are all facing past few months? Mental strength is like basic instinct we all should have to help us to overcome the tough times or to help us succeed and catch our goals. COVID-19 didn't left people only with consequences for their physical health but for their mental health as well.
Italian Michael Raso is a SAMBO champion but in the past few months that is something what have become only his "day job". Sambist who celebrated his 28th birthday back in March is a nurse in one of the biggest hospitals in Turin in the psychiatric ward. Five times Italian SAMBO champion struggles to keep up with home trainings, claiming that the apartment that he lives in with his girlfriend Alice who's also a sambist is very small, but that they are doing their workouts and hoping that the quarantine will end soon.
– You are in the quarantine for almost 60 days. Can you describe your position considering you work as a nurse?
– Yes, the quarantine started on March 8th, but I have to work every day. The lockdown itself has changed my everyday life but not my focus or goals. As a nurse I understood that the lockdown was the only solution to keep under control people and stop the infections, but as an athlete I feel angry, because my training program and the competitions have changed for completely.
– So, how have your days changed since the pandemic started?
– At the moment I'm working in the psychiatric department. In my opinion until now not much has changed compared to "normal times", except for all the precautions we have to observe. However, we are expecting an increase of the cases, because the lockdown itself is going to increase the cases of mental illness. In my days off I have to guarantee my availability to work in Covid ward, if necessary. The situation in Italy is going better day by day, but few days ago, the situation was critical. People are still dying, especially the elders. Doctors and Nurses, the ones employed in the front line, are exhausted.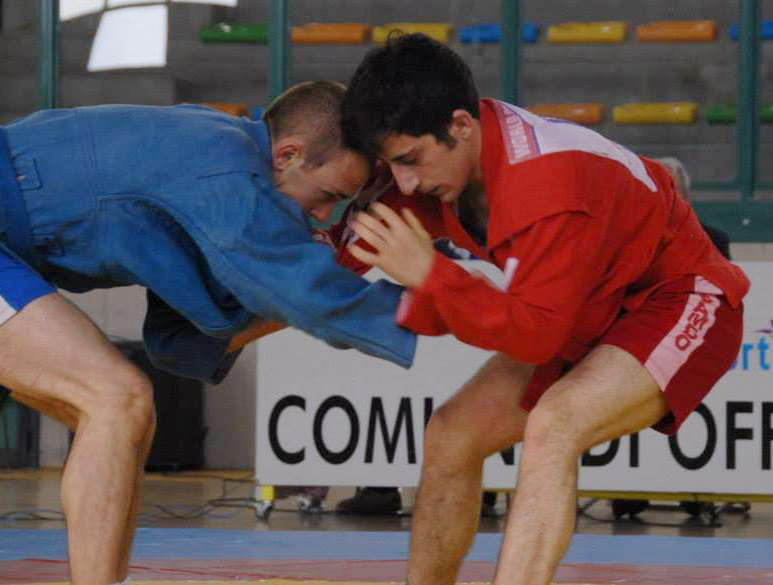 – Do you remember your first times doing SAMBO?
– Yes, I started doing SAMBO in 2013 thanks to a friend of my judo team Giulia Aragozzini who was competing in SAMBO at that time. I had to stop with competitions for a couple of years but then I returned in 2015. Then I brought my girlfriend into SAMBO which made all of it more special for me.
– Do you have any favorite result that you like to remember or something that keeps you motivated?
– If I had to choose, I would say that my favorite result is the 5th place at the European championships 2016 in Kazan, Russia. There I fought one of the toughest matches in my career against Garayev and regardless the result which was 5-5 I unfortunately lost. Once I promised to myself and to my team that one day I will achieve an important result. This keeps my trying and makes my fight as well as I can.
Source: sambo.sport